Tools to Check Website SEO Score
Subhash Kashyap
Want to know all about SEO score and how to improve it for more website traffic?
Search engine optimization (SEO) is an essential aspect of digital marketing, and it involves several techniques and strategies to help websites rank higher on search engine results pages (SERPs).
And, SEO score is one such metric that helps measure how well a website is optimized for search engines.
Let's get started and discover all about SEO score – what is it, what's considered a good score, how to check your SEO score, and improve it.
Further, I'll cover some frequently asked questions about the SEO score.
First things first.
A Quick Introduction to SEO Score
An SEO score is a numerical rating that ranges from 0 to 100 and indicates how well a website follows the best SEO practices.
You can check your SEO score by running it through an SEO score tool like Ahrefs or Semrush.
This score is based on several factors, including website structure, content quality, backlink profile, mobile-friendliness, and much more.
A higher SEO score indicates that a website is more likely to rank higher on SERPs.
What is a Good SEO Score?
An ideal SEO score typically ranges between 80 and 100, indicating that your website has excellent technical SEO, content, UX, and mobile usability.
While some SEO specialists suggest aiming for a score of 85 or above, others consider a score in the 70s to be satisfactory.
Moving on, here's how you can check your website's SEO score.
Top 10 SEO Score Checker Tools in 2023
Listed below are our top 10 SEO score tools that can help you identify SEO issues and solve them before they become serious.
1. Google Analytics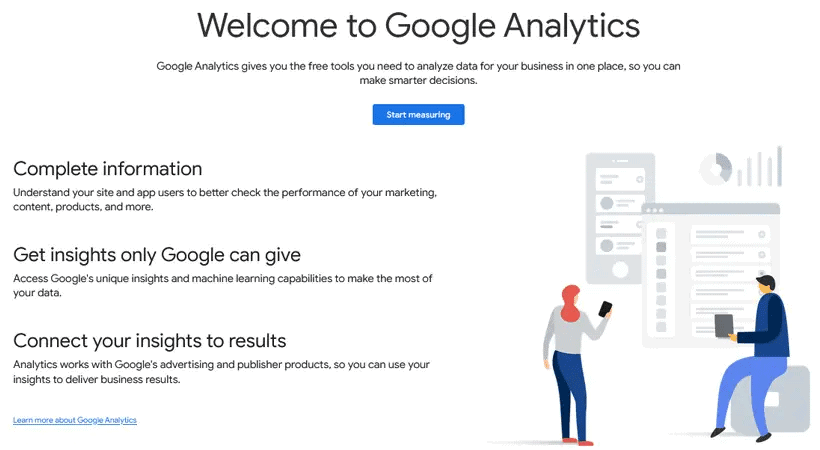 One of the most popular SEO tools, Google Analytics is a great platform to fulfill all your SEO needs.
Even though you won't get an SEO score with Analytics, it will still help you to measure and analyze your website's performance.
With Google Analytics, you can track your organic search traffic, bounce rate, average session duration, and conversation rate.
2. Google Search Console

Google Search Console is a powerful tool that provides valuable insights into your website's performance on Google search results, including the number of clicks, impressions, and click-through rate (CTR) for your website's pages and keywords.
Additionally, it allows you to identify and fix any issues that may be affecting your website's rankings, such as crawl errors, security issues, and mobile usability problems.
3. Bing Webmaster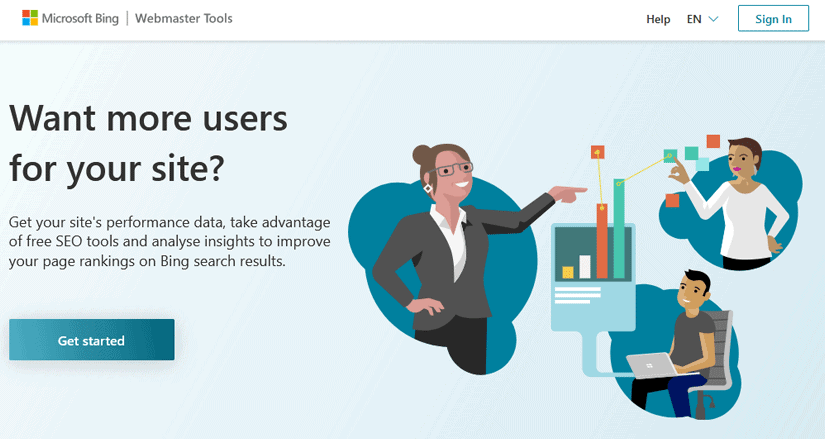 One of the most comprehensive tools to optimize your website for Bing, Bing webmaster gives you a detailed analysis of your website's performance and SEO.
Apart from the number of clicks, impressions, and click-through rate (CTR) for your website's pages and keywords, it allows you to identify and fix any issues that may be affecting your website's rankings, such as crawl errors, security issues, and mobile usability problems.
Additionally, it also offers keyword research tools, site mapping, and SEO reports.
4. Google Trends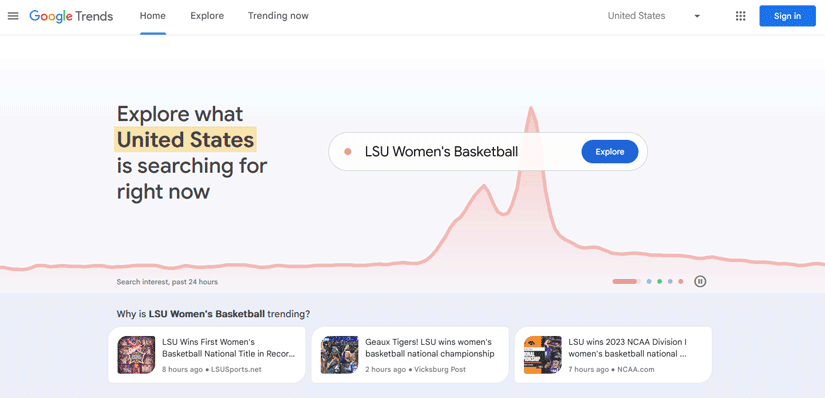 Google Trends is a free tool that helps you analyze the popularity of specific keywords and phrases.
Using this, website owners can better tailor their content to their target audience and improve their SEO score.
It also allows users to see the search volume trends of specific keywords over time and compare the popularity of different search terms.
Additionally, it can help identify geographical areas where a particular search term is more popular, which can be useful for local SEO.
5. Ahrefs SEO Checker

Another popular SEO score checker tool is Ahrefs.
Other than determining your website's SEO score, Ahrefs lets you run a comprehensive site audit that catches faulty pages and other technical errors present in your website.
So, you can not only check what's your current SEO score, but also how you can improve it.
Further, Ahrefs is a great tool for backlink analysis, keyword research, and competitor analysis.
6. Semrush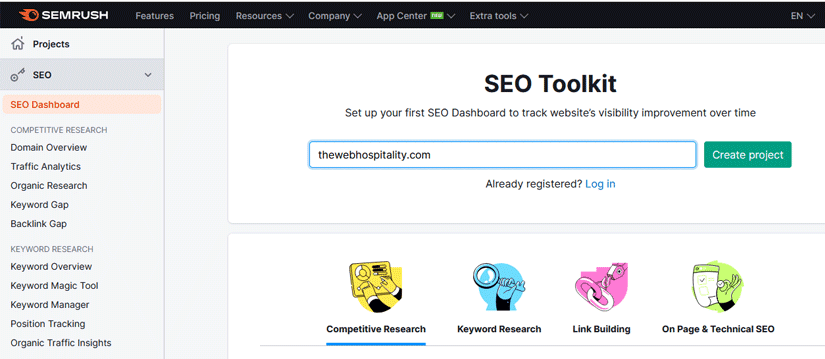 Semrush offers a variety of features, including keyword research, site audits, backlink analysis, and competitor analysis.
These features can help website owners identify technical issues, optimize their content, and stay ahead of their competition.
Also, it helps you with your other digital marketing prospects like social media and email marketing.
7. Woorank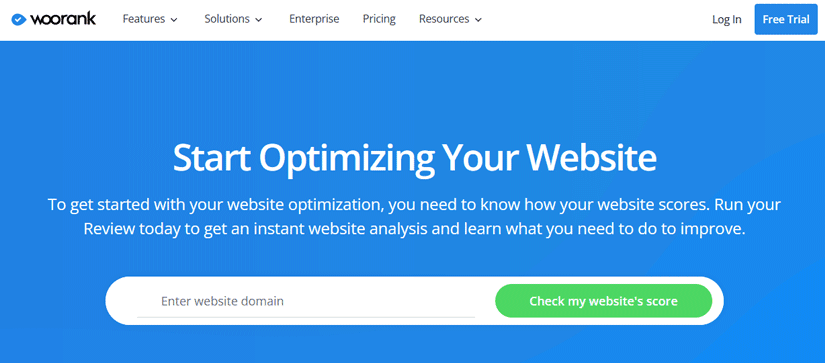 Woorank is an all-in-one digital marketing tool that gives an SEO score and helps you find crawling and technical SEO issues.
It gives you a detailed website analysis report that covers various aspects of website optimization, including mobile optimization, SEO, usability, and security.
So, you can focus on improving your website's SEO score.
8. Screaming Frog

Screaming Frog crawls websites and provides you with the valuable insights into your website's technical SEO performance.
It allows you to identify technical issues that may be affecting your website's rankings in search engine results pages (SERPs) such as broken links, missing meta descriptions, and duplicate content.
Added to this, you also get detailed information on page titles, headers, URLs, subdomains, and internal links.
9. Neil Patel SEO Analyzer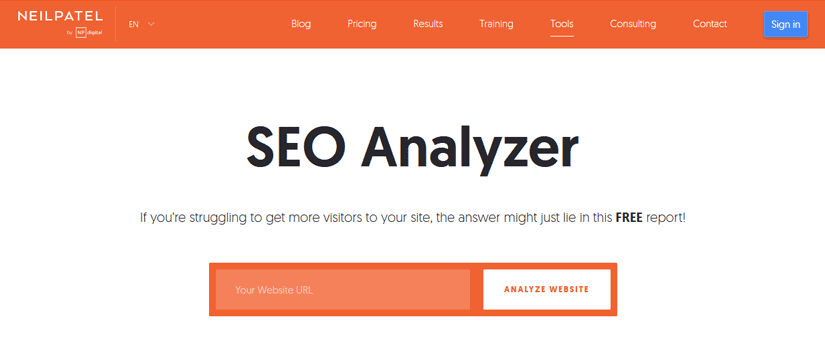 Neil Patel's SEO Analyzer suggests actionable recommendations to improve your website's SEO score, including optimizing your content for relevant keywords, fixing broken links, and website's loading speed.
Additionally, the tool allows you to analyze your competition's SEO strategies, keeping you ahead in your market niche.
10. Yoast SEO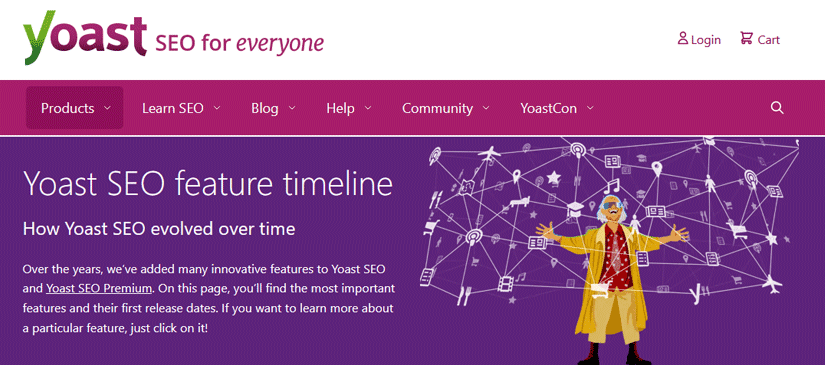 If you're looking to improve your website's SEO score, Yoast SEO is a great tool to consider.
It provides suggestions on optimizing your website's meta descriptions and focus keywords, as well as analyzing your website structure for areas of improvement.
One of the best features of Yoast SEO is its color-coded light system, which lets you know whether a page is optimized for search engines or not.
Plus, the tool provides actionable recommendations for how to improve each page's SEO score.
How to Improve Your SEO Score?
Here are the four main factors that impact your SEO Score.
A. Technical SEO
As the name suggests, technical SEO includes a website's technical aspects that enhance its search engine ranking and visibility.
It involves optimizing the website's structure, speed, indexing, and other technical components to ensure that search engine crawlers can easily crawl and index the site's pages.
Also, broken internal or external links on your site can have a negative impact on your SEO and cause a drop in rankings.
Luckily, there are tools like SEO checker that can provide an analysis report of your site's SEO and assist you in identifying and resolving any link-related issues that may be hindering your website's performance.
Additionally, it also involves ensuring that the website is mobile-friendly, has a secure HTTPS connection, and is accessible to users with disabilities.
An SEO professional can help you optimize your website for technical SEO.
B. Website Content
Website content is a critical factor that affects the SEO score of a website.
High-quality content that is relevant, informative, and engaging can help to improve a website's search engine ranking and visibility.
Here are some ways in which website content affects SEO score:
By including relevant keywords in the content.
Keeping your content fresh and updated.
Creating high-quality content that engages users, such as blog posts, infographics, and videos.
Adding meta tags so search engines can easily identify what your website pages are all about.
C. Backlinks
Building a strong backlink profile is one of the best ways to boost your SEO score.
D. User Experience
User experience affects SEO score by providing users with a seamless, engaging, and informative experience on the website, which leads to longer dwell time and lower bounce rates.
In layman's terms, it means by improving your website structure, you make it easier for the viewer to navigate your site.
This makes them stay longer and, in turn, improves your rankability on search engines.
E. Social Signals
When it comes to improving your site's rankings on search results, social signals can have a big impact.
While they may not directly affect your SEO score, social signals indicate that people find your content valuable and are willing to share it on social sharing sites.
This can lead to natural backlinks to your website, which can ultimately improve your SEO score.
FAQ(s) About Website SEO Score
If your SEO score falls below 30, it's a clear indication that you have some serious technical SEO issues that require immediate attention.
Such low scores could mean that visitors may find it difficult to navigate your website or consume your content, leading to a high bounce rate.
However, if your score is in the 50s or 60s, you may not need to make significant changes.
Optimizing your meta descriptions and images can go a long way in boosting your score by five or ten points.
No.
While search engines take various factors into consideration while evaluating your SEO score, they rely on their own algorithms to do so.
Simply improving your SEO score won't necessarily lead to a significant improvement in your rankings.
However, keeping track of your SEO score can be helpful in identifying common issues and staying ahead of the competition.
It's recommended that you check your website's SEO score once a month, or after making any significant changes to your website's design, content, or structure.
This way, you can stay on top of any issues that may be affecting your website's search engine rankings and traffic.
Let An SEO Professional Help You Improve Your Website Score
While search engines may not consider SEO score as a ranking factor.
But, it still gives you a glimpse of how search engines are analyzing your website and where you stand in the ocean of similar content.
Improving your website's SEO score needs a proper strategy and technical analysis. That's why, it's best to consult an SEO strategist.