How to Build High-Quality Backlinks
Subhash Kashyap
Quality Linkbuilding: How to Choose and Analyze Websites
Off-page SEO is probably the second most important ranking factor after content.
To get high rankings while having the right content and no technical issues, you need to have to establish a quality linkbuilding process.
Google recommends sitting and waiting for backlinks to appear themselves, although it's not the fastest way to obtain them.
You can boost your off-page SEO by effective link building, but how to determine whether the link is good or not?
Let's find out in this article.
Google's Attitude to Backlinks
Backlinks are the most important off-page factor that greatly impacts the website's authority.
Similar to academic citations, the more citations (links) the domain receives, the more authority it gains.
Google's interpretation of this method to determine page quality was PageRank, which was patented in 2001.
It featured a fairly simple to determine page quality based on the quality and quantity of referring pages.
PageRank was excluded from Google's core algorithm in 2019, but sure enough, its fundamental principles are included in the new algorithm.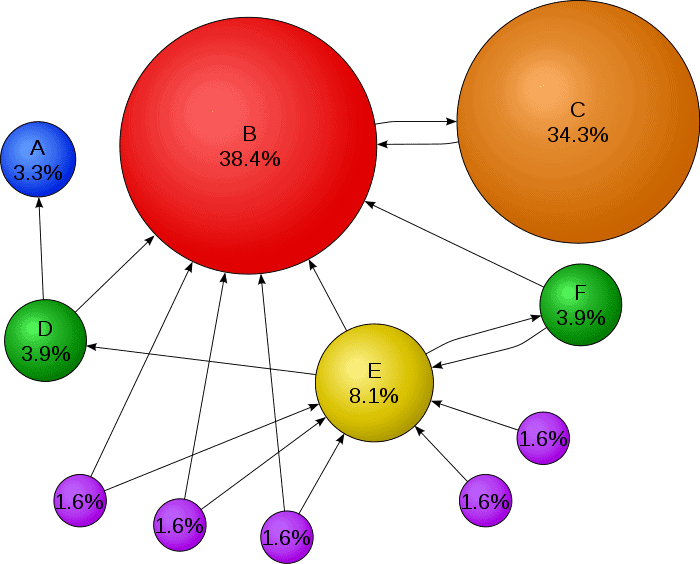 There is a problem with any search algorithm: it can be manipulated.
Because of this, in the 2000s and early 2010s, the search results were flooded with scam websites with low-quality content (e.g. doorways).
To fix it, Google released its famous Penguin update in 2012.
It was targeting websites that use shady SEO strategies, including unnatural website link building.
Penguin banned the majority of websites that used black-hat SEO methods but also started a rumor that link building was illegal.
The truth is not all link building is bad, only some types of it are (e.g. blog hacking, bot comments), so you can build links to your website.
Since then, there were several minor Penguin updates that became a part of Google's core algorithm in 2016.
In 2022, the main principles are still the same.
Google excludes websites that use webspam, hacking, or unnatural paid links to improve the quality of their organic search results.
Note: you won't receive a penalty for paid links if they contain the attribute rel="sponsored".

(Image Source – https://developers.google.com/search/docs/advanced/guidelines/link-scheme)
Speaking of link attributes, there are 3 of them:
Nofollow
UGC
Sponsored
These attributes tell Google how the domain relates to the link.
For example, UGC (user-generated content) means that the domain owners are not responsible for the link, because it was created by a user.
What is a "Quality Backlink"?
There are many opinions on what makes a link good because nobody knows exactly what link parameters impact ranking.
But there are some fundamental features of a good link that are recognized by both SEOs and Google. A good backlink must be:
Organic
Relevant
From a reputable website
Organicity
In the Penguin announcement we saw earlier, there is an example of a bad link, where "hair transplant in Turkey" is obviously a paid link, even though it kind of fits the context.

(Image Source – https://loganix.com/buying-links-guide/)
Another example from Google's link schemes is using anchor links without the proper context.

From those examples, we can state that organic links should be placed in the proper context and bring value to the user.
A great example of quality backlink usage is Wikipedia.
It utilizes anchor links inside a sentence to explain some terms, and citation links to prove the information (like in academic papers).

Relevance
The main factor for a good link is relevance: the more relevant, the more PageRank is passed from the referring domain to the destination domain.
In the Penguin announcement we saw earlier, there is an example of a bad link, where "payday loan" links were inserted into a fitness article.
It's one layer of relevance (content to link), but there are more:
Domain-domain
Page-domain
Domain-page
Page-page
Source domain authority
The previous 2 components are pretty straightforward, yet hardly measurable. The authority is both very unclear and incalculable.
For example, let's deconstruct why Wikipedia is an authority website.
1. High-quality content:
Wikipedia provides outstanding content regarding the topic, because of strict guidelines and community moderation. Thus, Wikipedia is considered a trustworthy source that a user can rely on when looking for some information online.
2. Great backlinks profile:
Wikipedia has over 4 billion links from more than 9 million domains. Not only quantity but also quality. The list of referring domains includes the best SEO links from sites like nytimes.com, mozilla.org, google.com, w3.org, bbc.com, and many more.
Note this list does not include links from community platforms (e.g. Reddit) since those links aren't too valuable since anyone can get them. Perhaps the main reason why Wikipedia has so many great backlinks is its comprehensive content.
3. Social proof:
Besides content and backlinks, there are other important parameters Google uses to rank pages and sites – UX metrics.
Users love Wikipedia because it provides amazing content in a form users like while also having a thoroughly built website navigation.
Google knows the user is satisfied when they enter the search term, visit the page, and don't go back to search results.
This pattern means that the page the user visited totally satisfies the search term.
In this way users evaluate pages, and pages that pass this evaluation are considered "good" by Google.
Most Important Metrics for Link Building Analysis
We've seen an approach to how Google treats websites.
Now, it's time to measure it. Of course, we aren't able to get the metrics from the algorithm, but we can access related data.
Let's overview metrics for linkbuilding using the domain authority categories we defined earlier.
Domain Trust
The PageRank algorithm has been officially retired, but the modern algorithm surely uses its predecessor's approach.
We've seen proof of this with a Wikipedia example: it has a lot of backlinks, including links from extremely popular domains.
Many SEO services work on this principle.
For example, the backlink checker by SE Ranking–the link analysis tool we'll be using further in this article for analyzing domain metrics–has its own metrics called "Domain Trust" for fast website link analysis.
From its description, you can see it's pretty close to the PageRank algorithm.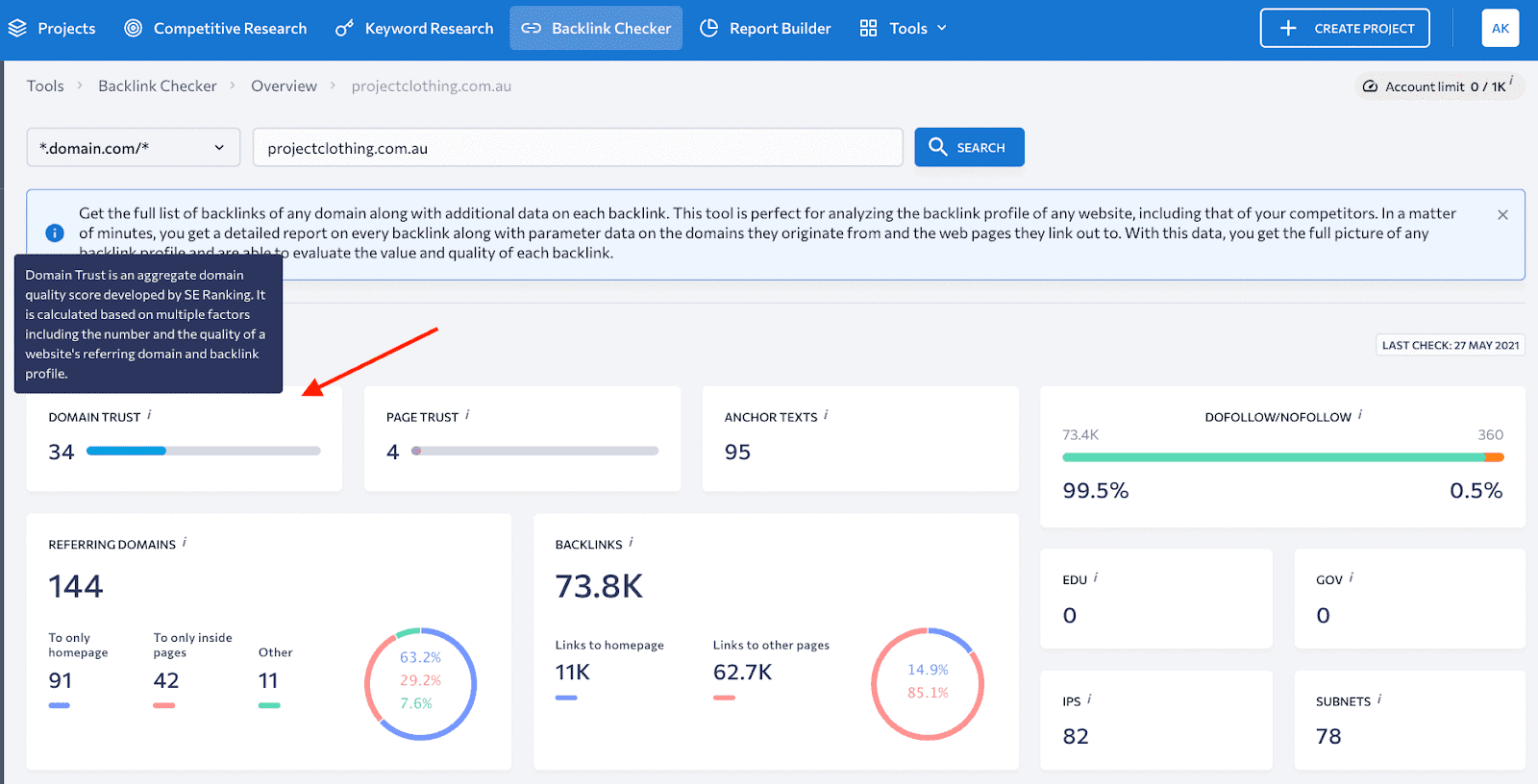 (Image Source – SE Ranking Backlink Checker)
This parameter varies from 0 to 100 and represents the aggregated score for the website's backlinks profile.
It's an amazing way to evaluate domains in the blink of an eye.
Organic search performance
The next thing you should consider when choosing a website for links is traffic and keywords, and what pages generate them.
You can use SE Ranking to check all these metrics that matter for making decisions on whether a domain is worthy of website link building.
Go to SE Ranking's Competitive Research module to find data on organic traffic, keywords, and pages.
Traffic
Traffic can tell you much more than just a site's popularity. Organic traffic is an amazing metric to determine the quality of a website for links as a whole.
Here is why:
A page starts gaining clicks when it ranks high. (top 5 and above)
The more popular the keyword, the more clicks.
Also, more popular keywords mean higher competitiveness.
To get to the top by difficult keywords, the page must have outstanding content, good backlinks, and the domain has to have great authority and trust from Google.
This way traffic is literally the result of how Google's algorithm works – if the website has a lot of search traffic, it means Google trusts it, so you can too.
There is no line that separates good link building sites from bad.
Search traffic depends on many things, including total page count, niche, website GEOs, and languages, so it's a metric to compare a set of many domains to find the best among them.
Keywords
Similar to the traffic, the more keywords, the better. The difference is that the keyword count does not represent the popularity and competitiveness of keywords.
A keywords report is great to prognose the traffic of a website using the distribution of the positions.

(Image Source – SE Ranking Backlink Checker)
For example, if the total keyword count doesn't change, but the keywords from the top 11-20 group move into the 6-10 group, it means that a website will be receiving more traffic soon.
Also, this ratio can display the amount of Google's trust: if only 1% of keywords rank in the top 1-3, it signals that the domain isn't good enough to be there.
Additionally, the keywords a website ranks for the need to be relevant to the domain's subject.
There are cases where a website has dozens of keywords but after an SEO link analysis, you see that they are completely irrelevant–this means they won't stay for long.
Top pages
The domain doesn't generate traffic, pages do. Because of this, sometimes you can get confused by the traffic numbers of the domain.
For example, if 3 pages generate 90% of the website's traffic, it's fair to state that only 3 pages are trustworthy, not the whole domain.

(Image Source – SE Ranking Backlink Checker)
Another thing you can do in an organic search report for pages is to validate if the domain is receiving relevant traffic.
There are cases when the homepage states the site is about, let's say, fitness, but the pages with traffic are about loans, casinos, essays, and other scam topics.
Website link analysis
An SEO link analysis is not only about the count and quality of referring domains.
Google lowers the authority of websites that use link schemes in the Penguin filter, so you need to be sure the donor website does not use any of them.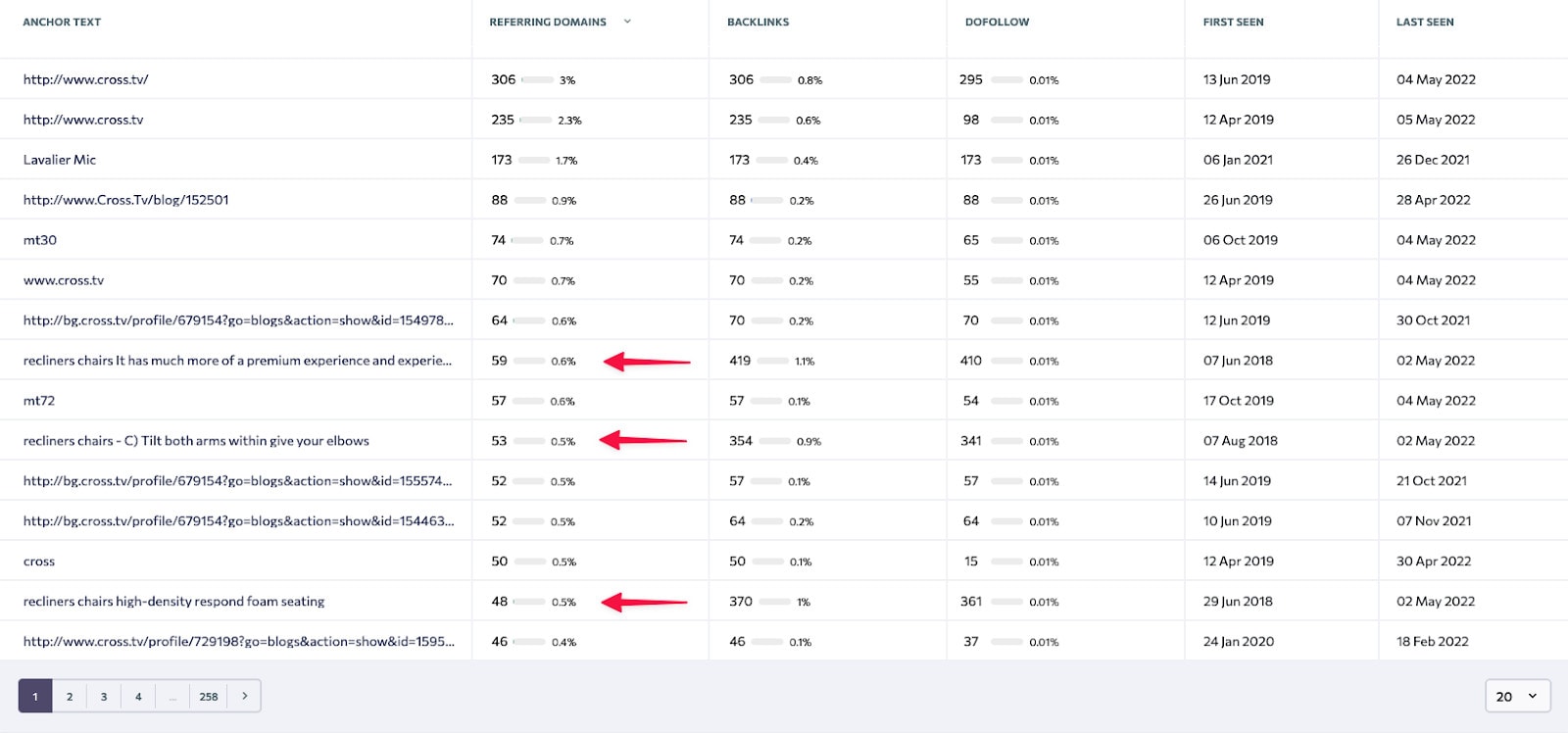 (Image Source – SE Ranking Backlink Checker)
These are examples of spam anchors – seems like black-hat SEOs execute a tier 2 links strategy.
Yet for Google there is no difference in who does it: if the domain contains similar anchors it's a strong sign that the website quality is poor.
In such a case, webmasters weren't paying attention to it, which resulted in a traffic drop to zero.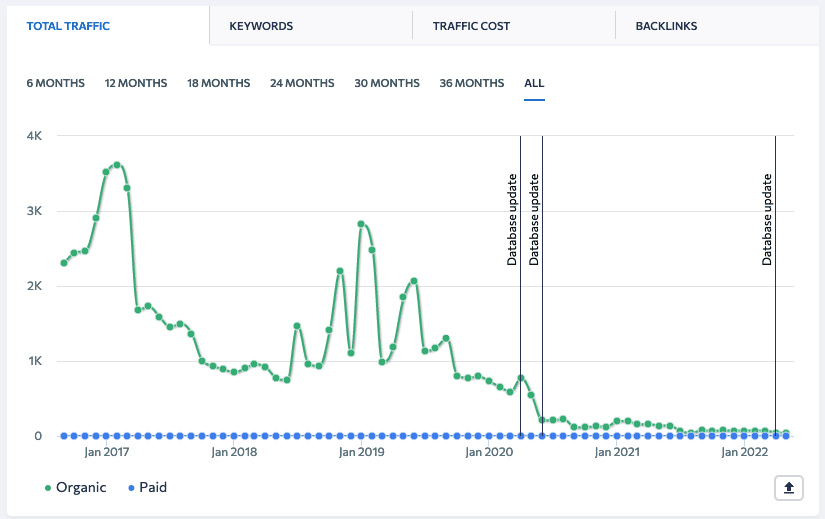 (Image Source – SE Ranking Backlink Checker)
Other common spam anchors may contain one of the following terms:
– loans/cash advances
– casino/gambling/betting
– academic writing service (essay, research paper, thesis, etc.)
– *brand* replica
– buy *pills name*
Besides anchors, you can also check the quality of backlinks: do the referring domains themselves contain any spam words?

(Image Source – SE Ranking Backlink Checker)
It's not too bad if there are a few such websites, but if many spammy domains are pointing to the website it's a signal to check other parameters more scrupulously.
To analyze the domain's anchor list, go to the Anchor Texts tab in SE Ranking's Backlink Checker.
Website region
Not only pages are relevant to search terms, but they are also related to the search region and language.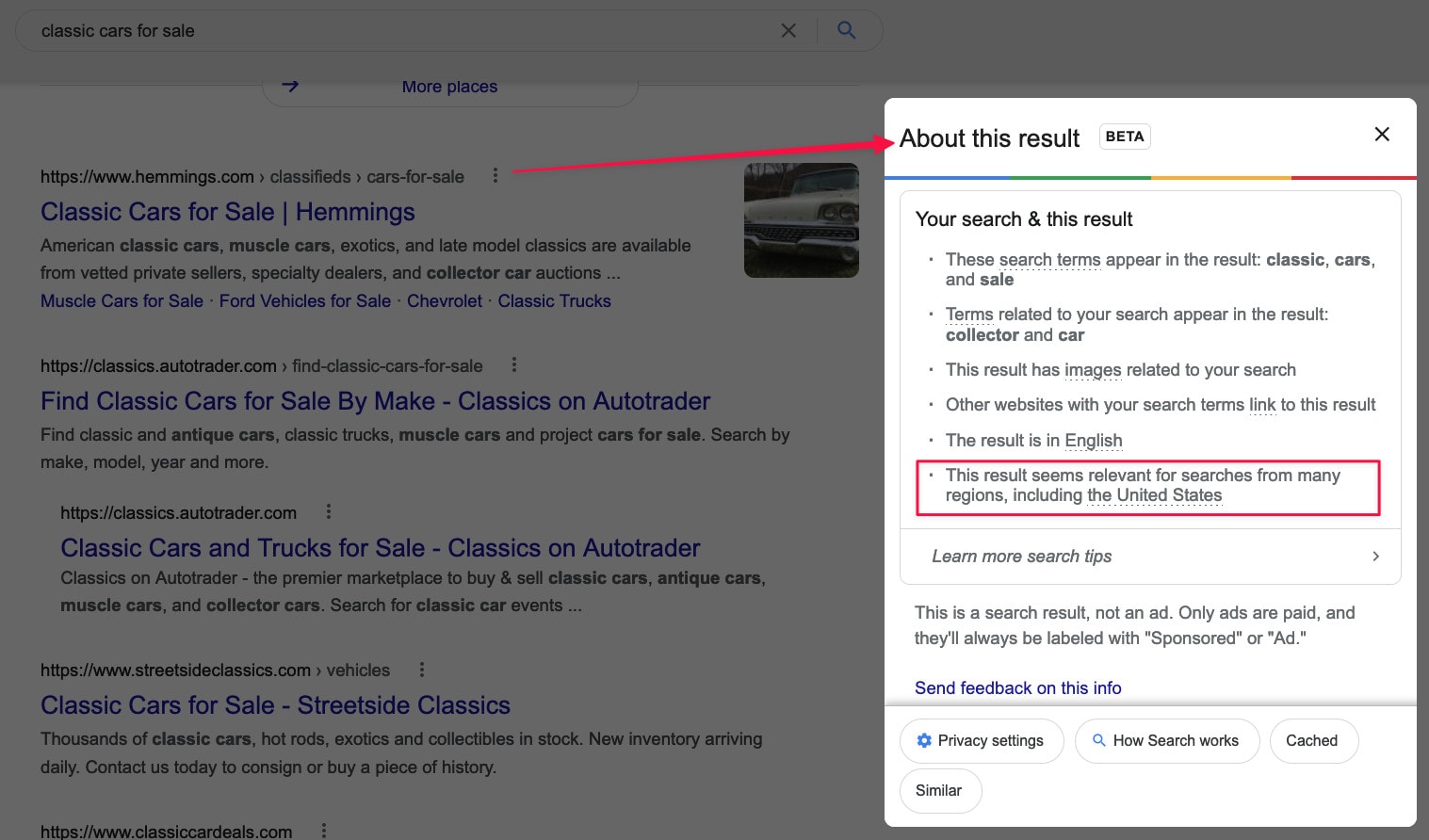 To gain authority in the US, your website must have trusted US link building sites pointing to your domain.
An amazing metric for backlink quality check by a region is search traffic by country.

(Image Source – SE Ranking Backlink Checker)
You need to check if a domain has enough search traffic from the region you are targeting.
Domain Growth Dynamics
Would you buy stocks from a company that had this price graph?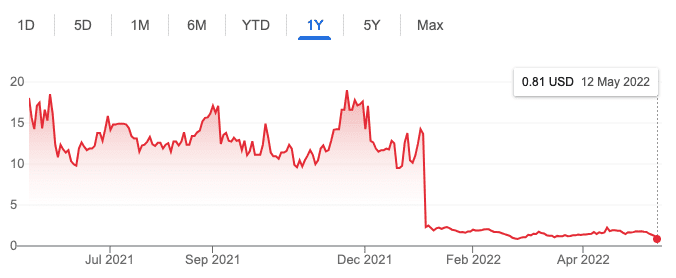 If you answered "no" then you most likely wouldn't invest time and effort in acquiring a backlink from a website with a similar trend.
Let's imagine 2 websites:
Domain A has 100k organic traffic with a 50% drop for the past year
Domain B has 50k organic traffic with a 50% gain from the past year
Assuming the trend will be the same, in the next year domain A will have 50k traffic, and domain B 75k.
Since SEO is all about long-term results, it's a much more clever choice to invest in more promising opportunities, rather than hunt for immediate results.
Content
Before a page gets to the search results, firstly it needs to be indexed by Google.
Indexation is a process when a Google bot visits the page and saves its copy to the database.
Not all visited pages are indexed, only those which pass the basic evaluation: the page is not closed for indexation, not duplicated/copied, has valuable content, not spammed, etc.
After the page has been indexed, it needs to have great content to get to the search engine result.
Knowing this, you can calculate how many indexed pages get rankings to get the ratio of pages with positions.
1. To check the indexed pages count, use the Google search operator "site:"

2. To access the pages in the SERP count, use SE ranking's "Pages" report which is accessible from the Competitive Research module.

(Image Source – SE Ranking Backlink Checker)
In this example, about 50% of indexed pages have SE visibility, which is a good result since 100% is almost impossible.
This ratio is relative so you could compare several domains, so as not to say a definitive "yes" or "no".
As we've learned before, the dynamic is important.
To verify the website is not "dead" and publish content regularly, you can use the Internet Archive's Wayback Machine: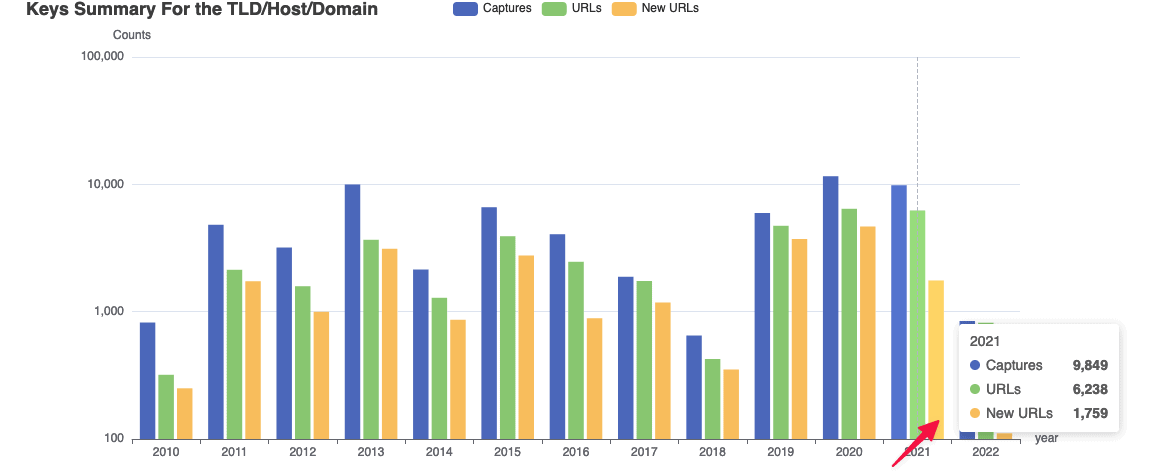 The yellow bar is for new URLs:
The example domain got almost 2k new pages in 2021, so we can say that it's actively publishing new content (~150 articles per month).
Amount of Ads and Pop-Ups
Annoying advertisements ruin the UX, which impacts rankings.
If you visit a website and your monitor is flooded with ads and pop-ups, it can tell a lot about the site's quality and its owner's attitude.
Even, if the main purpose of a website is to earn money instead of providing valuable content, it will surely lose search traffic in the long-term.

Instead of visiting websites, you can automatically check how many advertisements a website has on each page.
Use the "Custom Search" feature of ScreamingFrog (or a similar crawler) to find occurrences of the most popular ads' scripts in the page's source code:


TOP Recommended Business Directories
We know that links are a must to gain authority and search traffic.
One of the easiest ways to obtain a high-quality link is to get listed in popular business directories.
This method does not violate any Google policies:
Post your business in a business directory.
Bring value to users who want to learn more about your business.
Especially when you have a local business and place your profile on a local version of the directory.
Just make sure all your listings have the same business info: phone, address, logo, name.
The recommended directories are:
foursquare.com
mapquest.com
yelp.com
cylex.us.com
cybo.com
hotfrog.com
manta.com
merchantcircle.com
showmelocal.com
tupalo.com
where2go.com
chamberofcommerce.com
ezlocal.com
lacartes.com
local.com
mapquest.com
spoke.com
bizvotes.com
citysquares.com
Summary: How to Build High-Quality Backlinks
To get traffic,
first of all, your website has to have great content and usability.
However, there's more. You also need to build up the authority of your website by implementing effective link building strategies.
It doesn't violate Google's guidelines, but you need to be careful with it.
The best backlink building strategy is to acquire backlinks that are relevant, unique, and from a reputable domain.
The most debatable component is "reputable domain" since nobody knows exactly how to measure it.
Instead, you can measure the result of how Google treats the domain – its organic traffic and keywords.
So, you should focus on obtaining relevant dofollow links from domains with high search traffic – that's the recipe for high-quality link building.