Guide to Building a Great Website
Subhash Kashyap
Want to build a website? Not sure where to start? If you're like most people, the prospect of building your own online website business sounds interesting but you may be intimidated by all of the technical jargon.
You see, about 10 years ago, that may have been true. It was quite technical to build a website – and even harder to make money with it.
But today things have changed drastically. Here are 3 reasons why anybody can build their own website to make money online.
1. Easier to learn Website Building Tools: unlike 10 years ago, where people bought expensive software like Dreamweaver, builders have now made it easy for you to create and design a show-stopping website – without you having to learn a single line of code!
2. If you have something unique to say and share with others: Websites have given artists, parents and many community groups a platform to share their unique experiences, skills and knowledge.
3. There are many ways to monetize a website. These include paid Google advertisements, affiliate links, ecommerce, selling digital products and much more. The opportunities are endless on the World Wide Web.
Whether it's a personal or business website, it can easily be created with the right tools and resources. You should also know exactly what you want your website to accomplish.
For example, if it's a personal blog website then your goals should be to drive traffic and build a community that you can connect with.
If it's a business website then your goals could surround increasing brand awareness and/or driving traffic into your physical and online store.
Here are three essential keys to building a great website.
1. Choosing a Domain Name
The domain name is used by visitors when they're trying to find your website via web browsers. If the website is for a business, then the domain name should match your company name.
If it's a personal website then the domain name should be either your name or the name of the blog itself. The last part of a domain name is known as a domain name extension.
For example, in YourWebsite dot com, the domain name extension is .com.
If you're targeting mostly country-based visitors, then it's advised to make use of a local domain name extension such as .de, .za, or .fr.
If you're targeting international visitors then making use of a "generic" domain name extension such as .com, .net, or .org is recommended.
A domain name can be purchased quite easily. The cost of a domain name can range from $10 to $50 year. The average cost is about $15. To purchase a domain name, you'll need to visit a domain name registrar such as Namecheap.
Search for your desired domain name and if not registered by another person or business, you'll have the option of purchasing it.
In the case that your desired domain name is already registered by another person/business, don't worry.
You could make an offer to buy the domain name from the current owner or make a slight alteration to your preferred domain name.
Let us use yourwebsite dot com, a domain name that is already registered, as an example.
By choosing to slightly alter the domain name as shown, 'using an extra 'b', can save money you from bidding to buy a popular name.

2. Get a Web Host
After having a domain name, the next step would be to obtain web hosting. This is a service that will host and store your website files (content) on a secure server.
The server is always up and running. Without a web host, your website, even with a domain name, will not be available for access to visitors who would want to read and browse.
For new websites, affordable and reliable web hosting costs range from $3-$10 per month.
According to Websitesetup, it is recommended that whichever web hosting company you sign up with, should provide the following features:
– Free domain name with Secure Sockets Layer (SSL). This is for security.
– Customized email accounts.
– Unlimited/unmetered bandwidth. This is for no limitations on traffic.
– Reliable and Timely customer support. Preferably 24/7.
– One-click installation for WordPress.
If your website hosting offers all of the aforementioned above, then you've likely found a good one. Bluehost dot com offers free domain registration for the first year.
Their hosting plans start from as low as $2.95 per month!
However, BlueHost does not offer country-specific domain extensions such as .de, .za, or .fr. If you require country-specific domains then you can purchase them separately first.
If you've already got a domain name separately, BlueHost will enable you to add it up to your new hosting plan.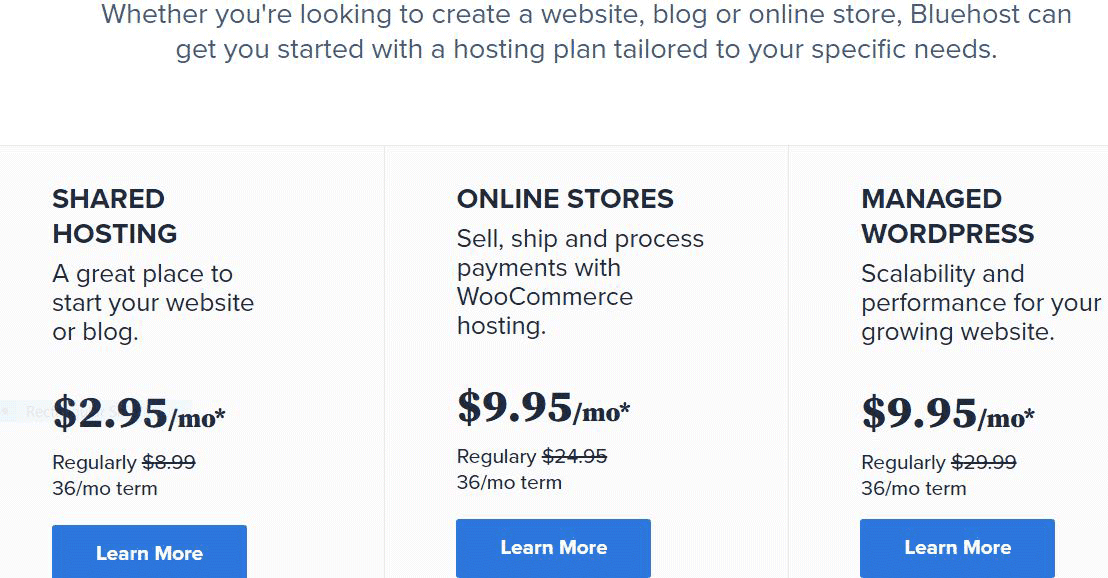 3. Setting Up WordPress Website
Once you've got your domain name and web host already, the next step will be to choose and install a website building platform.
Alternatively known as CMS (content management system), this is a tool that enables you to build your website without the manual editing of codes.
WordPress is a highly recommended website building platform. Mainly because it's easy to use and includes a wide variety of website designs and add-ons that'll make your website look professional and unique.
Setting up your WordPress website is uncomplicated and quite straightforward. Additionally, this is something that your web host should do for you.
On the other hand, if you are dealing with a web host that doesn't provide a "one-click install" for WordPress, then you will have to set it up manually.
Once WordPress is installed, the next step would be to test if everything is functioning as it should be.
4. Customize Your Website
At this point, your website is alive and kicking but pretty much bare. The customization process involves choosing themes, adding a logo and sidebar, alongside, content pages.
The theme of your website is its overall look, feel, and style. It's inclusive of elements such as the color scheme, layout, and style entities such as fonts.
In essence, the theme of your website is considered a direct representation of your brand. WordPress themes are out-the-box design packages that can change the entire appearance of your website.
Moreover, the themes are interchangeable- meaning that you can switch from one theme to another theme easily. There're an innumerable amount of both free and paid WordPress themes available on the internet.
If you are interested in a free theme, it is advised to head over to the official theme directory at WordPress.org.
For starters, Neve is a versatile theme that is highly recommended. It has got a handful of starter sites that have design packages for various niches and types of websites.
Neve offers well over 20 free designs that cover website niches ranging from restaurant, music, fitness, wedding, eCommerce to photography, and more.
By definition, a logo is a symbolic design for a brand that identifies its products/services.
It helps increase brand recognition and also contributes towards helping existing customers and target market(s) recognize your brand wherever they are. You can find some tools that'll help you create your logo here.
To further enhance brand identity on your website, consider changing the color scheme and fonts. A color scheme is a combination of colors that relate to your brand.
Fonts are a collection of alphabetical (lowercase and uppercase) and numerical characters that have got a similar design. The characters are also inclusive of punctuation marks and symbols.
Customizing the color scheme and fonts on your website will make your website's appearance more unique and in tune with your overall brand identity.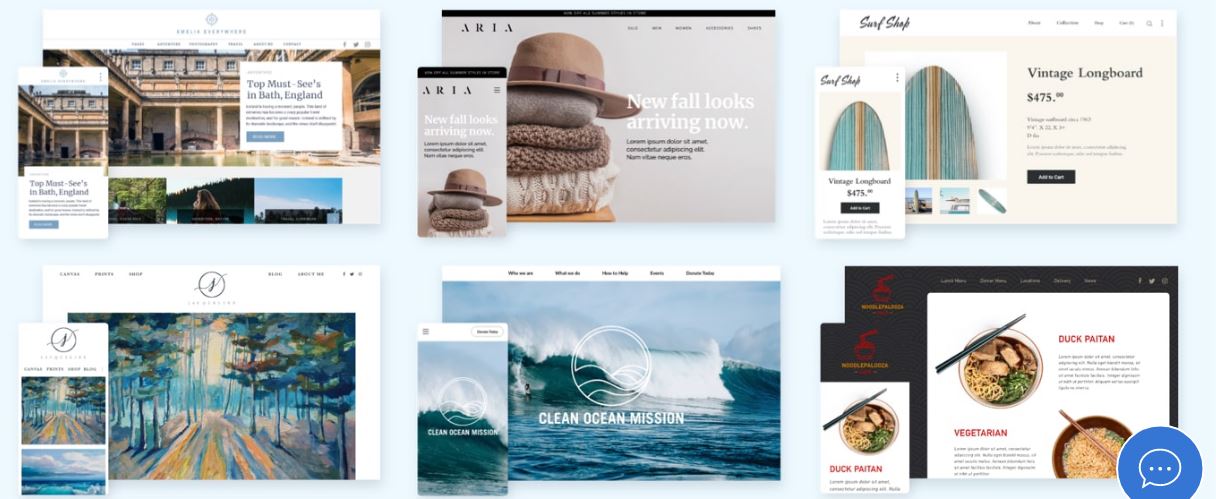 A sidebar is a user interface element on a website, which displays a list of choices. It commonly appears as a column on the left side but can appear on the right side of a website as well.
They usually contain links to the main sections of a website. Sidebars serve the purpose of increasing user experience by simplifying navigation.
The pages of your website to include the following:
– Home- usually the first page that a visitor will see upon entry into your website.
– About -offers information about the brand and products/services.
– Contact- this page should feature contact information such as emails and telephone numbers.
– Blog – this page is not necessarily mandatory but highly recommended. It can be used for company news and announcements.
– Services – if you're having a business website, this page should be used to showcase your services.
– Shop – this page should be available if you want to run an eCommerce store.
Conclusion: Guide to Building a Great Website
Building a great website should be more of a journey than a destination. As your brand grows, so will your website.
The theme that you might settle for today might not be the same in 5 years' time. Your website has got the power to influence the overall impression that a potential customer visiting your website will have.
Still confused? Then hire a b2b web design agency to execute it professionally.
Be patient and be open to change along the way. Ensure that you regularly double-check all pages and widgets are working and loading well on your website.